Soundscape Vancouver '96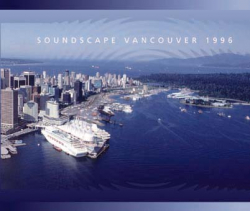 Abstract
1. Harbour Ambience (3:58)
2. Recharting the Senses (7:53) by Darren Copeland
3. The Hidden Tune (14:16) by Sabine Breitsameter
4. Vanscape Motion (17:07) by Hans Ulrich Werner
5. Pacific Fanfare (2:58) by Barry Truax
6-14. Vancouver Soundscape Revisited (17:52) by Claude Schryer
15. Documentary: The Changing Soundscape (11:00) (A comparison of the 1973 and 1996 soundscapes of Vancouver, narrated by Barry Truax and Hildegard Westerkamp.)

Credits

All four compositions (CD II, IDs 2, 3, 4, 6) were composed during the Soundscape Vancouver '96 project at the Sonic Research Studio of Simon Fraser University from May 6 to June 5, 1996. A final concert (June 7, 1996) presented these works to the public. An 8-channel computerized diffusion system, developed by Barry Truax at Simon Fraser University using hardware and software developed by the Harmonic Functions group, transformed the conventional concert hall environment into an electroacoustically enhanced place for soundscape listening.

Digital recordings of the Vancouver soundscape (1991 - 1995): Robert MacNevin and Scott Morgan. Studio assistance to composers: Susan Frykberg, David Murphy and Chris Rolfe. Graphic design: Jaclynne Campbell, Instructional Media Centre, Simon Fraser University. Introduction and text editing by Hildegard Westerkamp and Barry Truax.

This recording was made possible with the financial support of the Goethe Institut, Vancouver.
Description
https://www.sfu.ca/~truax/vanscape.html

https://www.sfu.ca/sonic-studio-webdav/WSP_Doc/Booklets/Vanscape96CD.pdf