frostbYte - chalk outline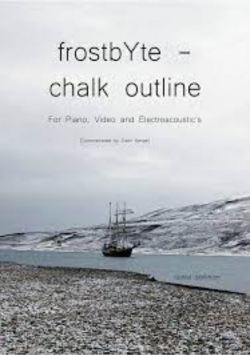 Abstract
chalk outline is electroECOustic and videophonic in nature, using the Svalbard coastline (and the idea of an outline in a more generalised sense) as a metaphorical reference to the (antiquated) forensic technique of drawing a chalk outline around the deceased. The piece is an example of how I often integrate the differing disciplines of sound and image to create a sense of advocacy about the importance of places and spaces mediated via technology, sonification and visualisation.

Central to the piece are location- based field recordings I made whilst on expedition throughout the Arctic region of Spitsbergen | Svalbard.

Positioned at 81° north, 10° East, the archipelago of Spitsbergen | Svalbard is a truly remarkable part of the world that continues to inspire awe and fascination, and is often at the heart of our collective consciousness for its ecological and climatic sensitivity.

The region is renown for its visual and cinematic beauty, however it should be no surprise to find that sound plays an integral and vital role in the uniqueness of the region. From the smallest sounds of popping and hissing as snow and ice melt, to the raucous thundering of glacial ice calving, sound is bonded to each and every ecosystem in the archipelago.
Description
https://www.youtube.com/watch?v=wqd7ZzwsrtE