Passing By ...More Quickly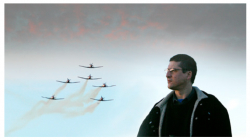 Abstract
Steve Stelios Adam
Passing By ...More Quickly 2012-13 sound installation
8 channels, 10 mins 9 secs Commissioned through the
RMIT Art Fund, 2012
RMIT University Art Collection, Sonic Arts Collection

Steve Stelios Adam has harboured a long- term fascination with music, sound and its associated technologies. As a composer and sound artist, Steve has created works for a variety of media and performed with instrumentalists, ensembles, choirs and interactive music systems of his own design. His electro-acoustic works have been presented both nationally and abroad and appear in recordings by Move Records, ANU and ABC Classics. Informed by the technical challenges of his own works, he occasionally consults for other artists and organisations to develop software designs for specialised media-based projects.

Sound is not a physical thing: it's a process. It is the wave of pressure caused by vibration passing though air. Sound is, quite literally, motion. In turn, motion can bring new sonic experiences—whether we are moving or objects are moving past us. It's the pace of this movement that affects how much, or indeed how little, we can meaningfully comprehend. This is particularly true of an urban environment. Passing By ... More Quickly (2013) features recordings made with a hand-held device in and around Melbourne, and chronicles a sonic environment that is substantially the result of people or objects in a constant state of movement and flux.

The recognisable sounds of traffic, trams, and bicycles, and the voices of passers-by quickly become ambiguous and potentially bewildering to the listener, speaking to a pace of life that is at once both vibrant and overwhelming.
Description
https://issuu.com/mcclellandgallery/docs/site_and_sound_catalogue_online