Max Neuhaus, R. Murray Schafer, and the Challenges of Noise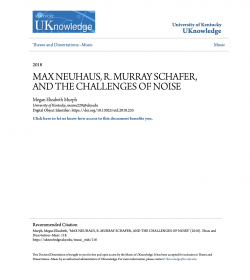 Abstract
In this dissertation, I analyzed Max Neuhaus's (1939-2009) and R. Murray Schafer's (b. 1932) commentary and work regarding noise, its control, and its relationship with the environment from the 1960 to the 1980s. Both Neuhaus and Schafer as well as those more directly involved with noise abatement research and policy were responding to the challenges and possibilities that noise posed in the latter twentieth century. In this project, I delved into these substantial links and argued that responding to and engaging with noise abatement policies was a key impetus to much of their work, which scholarship has yet to critically examine. Inspired by the listening strategies that Neuhaus and Schafer set forth, I also considered ways in which music educators and social activists might approach sound, becoming aural advocates or activists when working in their communities.

The works selected for analysis reflected contemporaneous studies held in the USA and Canada investigating the psychological and physiological impact of noise on humans, animals, and their landscape. Just as these investigations grew into the 1970s, new attention developed towards acoustic ecology and public sound art, both fields dealing with the relationship between sounds, living beings, and the environment. Neuhaus's works analyzed include the Listen series (1966-76), his New York Times op-ed piece titled "BANG, BOOooom, ThumP, EEEK, tinkle" (1974), and the Emergency Vehicle Siren Redesign project (1978-1989). These Neuhaus projects provided an alternative to the movement towards acoustic ecology put forward by his contemporary, Schafer. Analyses of Schafer and the World Soundscape Project's (WSP) publications included Ear Cleaning (1967), The Book of Noise (1970), and A Survey of Community Noise Bylaws in Canada (1972).

Featured were primary sources from the Max Neuhaus Papers (Columbia University Rare Book and Manuscript Library), newspaper reviews, and clippings. Also included were interviews with artists/associates of Neuhaus from his performance career (Phil Orenstein) and his Sirens project (Ray Gallon, Owen Greenspan, Herr Lugus, Julia Prospero, and Wolfgang Staehle) as well as Schafer's fellow WSP collaborator, Hildegard Westerkamp.
Description
https://uknowledge.uky.edu/music_etds/118/