Royal Botanic Gardens, Sydney - Sound Atlas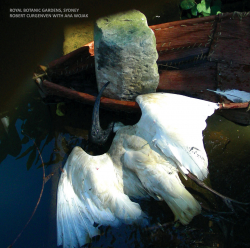 Abstract
The definitive sound of the Sydney summer, with the famous backdrop of the Harbour, the Bridge & the iconic Opera House. Recorded over a decade ago, in more "carefree" days, before Australia was the most expensive country in the world, back when it was *only* all about real estate, status and grand shows of 80s style fashion & wealth especially when done on a boat or by the water. The summer-time which frames the decadence and famous fireworks of New Years is the perfect period to explore not just a sound atlas of the Royal Botanic Gardens but also the harbour city itself.

Album version of 2channel sound installation presented with AñA Wojak's exhibition "triLamina", an indoor environmental installation in the Royal Botanical Gardens, Sydney in January 2008. Originally released as limited CDr on Recorded Fields, 2008 as part of the Sound Atlas series.

From triLamina: Stunningly realised full spectrum recordings from the Royal Botanic Gardens in Sydney, collected between 9-31 December 2007, capturing the many uses and ecologies of the Gardens through the Sydney Summer. This botanic conservatory is unusually bounded by contrasting environs: the maritime border of Sydney Harbour; the Domain, grounds for many summer festivals; and adjacent to the iconic Sydney Opera House and Harbour Bridge. This urban/maritime edge brings strange sonic bedfellows into juxtaposition - the booming drone of the Cahill Expressway and its daily traffic of 100,000 cars; ocean liners, ferries, speed boats; ponds, creeks, waterfalls nestled amongst temperate forests and their myriad wildlife - ibises, cockatoos, cicadas, colonies of thousands of fruit bats in their nightly migration, and tourists… The four pieces move from nocturnal murmurings to the still of the metropolitan night, detailed explorations in the shifts in the Gardens to the busy days culminating in Sydney Harbour's New Year's Eve fireworks.

Produced in conjunction with the Royal Botanic Garden's 2007 artist-in-residency, AñA Wojak, her elegiac cover art depicts life, death, renewal: the change in the interstice between the intervention of the conservatoire, maritime and nature.
Description
https://robertcurgenven.bandcamp.com/album/royal-botanic-gardens-sydney-sound-atlas