bioacoustics: Analyse Audio Recordings and Automatically Extract Animal Vocalizations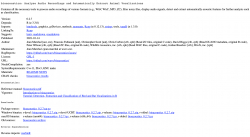 Abstract
bioacoustics contains all the necessary functions to read Zero-Crossing files and audio recordings of various formats (e.g., WAV, WAC, MP3, ZC), filter noisy files, display audio signals, detect and extract automatically acoustic features for further analysis such as species identification based on classification of animal vocalizations.

bioacoustics is subdivided into three main components:

- Read, write and manipulate acoustic recordings.
- Display what's inside acoustic recordings, whether to plot or just extract metadata.
- Analyse audio recordings in batch in search of specific vocalizations and extract acoustic features.


Description
https://cran.r-project.org/web/packages/bioacoustics/index.html