Playing with the Voice and Blurring Boundaries in Hildegard Westerkamp's "MotherVoiceTalk"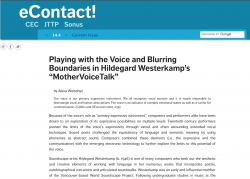 Abstract
Because of the voice's role as "primary expressive instrument", composers and performers alike have been drawn to an exploration of its expressive possibilities on multiple levels. Twentieth-century performers pushed the limits of the voice's expressivity through varied and often astounding extended vocal techniques. Sound poets challenged the equivalency of language and semantic meaning by using phonemes as abstract sound. Composers combined these elements (i.e., the expressive and the communicative) with the emerging electronic technology to further explore the limits to this potential of the voice.

Soundscape artist Hildegard Westerkamp (b. 1946) is one of many composers who seek out the æsthetic and creative elements of working with language in her numerous works that incorporate poetry, autobiographical narrations and articulated soundwalks. Westerkamp was an early and influential member of the Vancouver-based World Soundscape Project. Following undergraduate studies in music at the University of British Columbia (1972), Westerkamp worked as a research associate (1973–80) with R. Murray Schafer with the World Soundscape Project at Simon Fraser University. Her early work was influenced by the World Soundscape Project's focus on noise and the acoustic environment, the possibilities of electronic technology in the studio, and avant-garde composers such as Pauline Oliveros and John Cage. Her interest in the human voice as a sound source has led to numerous works that include the voice: adults and children, talking, laughing and reading poetry. In addition, she often uses her works to reflect on her own experiences and beliefs. Both of these aspects are present in MotherVoiceTalk.

MotherVoiceTalk (2008) is a fifteen-minute work that examines Westerkamp's affinity to Roy Kiyooka (1926–1994), a Japanese-Canadian artist and poet. Along with compositions by Jocelyn Morlock, Stefan Smulovitz and Stefan Udell, MotherVoiceTalk was commissioned by Vancouver New Music to engage with the artistic output of Kiyooka in a project entitled Marginalia, re-visioning Roy Kiyooka...
Description
https://econtact.ca/14_4/woloshyn_westerkamp.html