Talking Rain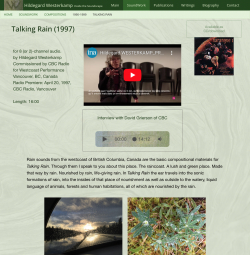 Abstract
Rain sounds from the westcoast of British Columbia, Canada are the basic compositional materials for Talking Rain. Through them I speak to you about this place. The raincoast. A lush and green place. Made that way by rain. Nourished by rain, life-giving rain. In Talking Rain the ear travels into the sonic formations of rain, into the insides of that place of nourishment as well as outside to the watery, liquid language of animals, forests and human habitations, all of which are nourished by the rain.

Talking Rain was commissioned by CBC Radio for Westcoast Performance. It was realized in my own studio, Inside the Soundscape, and was premiered on April 20, 1997. Most rain recordings for this piece were made by myself in and around Vancouver. Thanks to Norbert Ruebsaat for providing his recordings of ravens, eagles and frogs from Haida Gwaii and also for finding the right title for the piece, magically. Thanks to Bruce Davis and Peter Huse for their high-quality recordings made in the early seventies for the World Soundscape Project's environmental tape collection at Simon Fraser University; to Robert MacNevin for his equally high-quality recordings made 20 years later (1991 to 95) for the same collection; to David Grierson for his light footsteps and receptive ears during the recording of our rainy forest soundwalk in Lighthouse Park near Vancouver. Special thanks go to Jon Siddall, producer of Westcoast Performance for giving me this opportunity and for challenging me to create a radio piece with sounds that must be the most difficult sounds to broadcast!

Talking Rain is dedicated to my long-time partner and friend Peter Grant. Before he passed away in 2014, we used to love taking rain walks together.
Description
https://www.hildegardwesterkamp.ca/sound/comp/2/talking/