...We All Fall Down | UK Coronavirus | A Listening Journey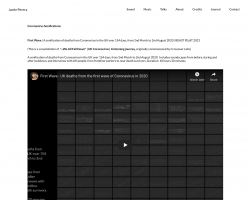 Abstract
An interactive listening journey through work sonifying every Covid-19 related death in the UK, inviting us to reflect and share experiences as we move along the piece's timeline from the first UK death on March 5th 2020 to August 16th 2020. Commissioned by Crossover Labs for Electric Dreams festival 2020.

The work incorporates:

- over 20 hours of testimony from interviewed individuals, from frontline workers, to self-isolating vulnerable people, to near death survivors.

- soundscapes following the timeline, from conversation in pubs, planes overhead and school playgrounds to empty streets, footsteps in isolation, hospital ICUs and environmental sounds without humans.

- a sonification of every Coronavirus death from March the 5th to August 16th 2020.

The work is experienced in extended performances spanning a curated time period, such as a programmed week of installation, or the duration of a festival. Listeners are invited to tune into a sonic timeline that provokes us to re-examine our recent past, re-live stories of human spirit and suffering, and gain perspective on actions that have and could have made a difference in the UK's battle with Covid 19. In some cases, listeners' shared thoughts and personal accounts of experiences with Coronavirus are recorded, and become a permanent part of Jamie's ongoing sound work.

"...We All Fall Down" has since been featured as part of Burning Man Multiverse 2020.
Description
https://www.jamieperera.com/coronavirus-sonifications