Fast Slow Radio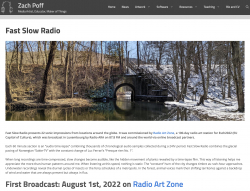 Abstract
Fast Slow Radio presents 22 sonic impressions from locations around the globe. It was commissioned by Radio Art Zone, a 100-day radio art station for Esch2022 (EU Capitol of Culture), which was broadcast in Luxembourg by Radio ARA on 87.8 FM and around the world via online broadcast partners.

Each 60 minute section is an "audio time-lapse" combining thousands of chronological audio samples collected during a 24hr period. Fast Slow Radio combines the glacial pacing of Norwegian "Sakte-TV" with the constant change of Luc Ferrari's "Presque rien No. 1".

When long recordings are time-compressed, slow changes become audible, like the hidden movement of plants revealed by a time-lapse film. This way of listening helps me appreciate the more-than-human patterns around me. When listening at this speed, nothing is static: The "constant" hum of the city changes timbre as rush-hour approaches. Underwater recordings reveal the diurnal cycles of insects or the ferry schedules of a metropolis. In the forest, animal voices mark their shifting territories against a backdrop of wind and water that are always present but always in flux.
Description
https://www.zachpoff.com/artwork/fast-slow-radio/